The Design History of LACE and the lace code
When LACE began we had an idea, and the way to promote that idea was to create a tangible design that would allow viewers to connect to our vision. Our mission is to create a welcoming and creative space from which all could benefit. From this, we concluded that the best name for this magazine would be LACE, an acronym for Launching a Creative Edge. This magazine is a catalyst. It is a starting point for creative people and art lovers to share with one another and learn from one another.
All too often young creators' work goes unnoticed. We posts our pictures on Instagram and our portfolios, we paint pictures for our friends and family, and we write stories for our personal journals to never been seen. Our art is given an expiration date and it is not able to reach it full potential so that it may be an inspiration to others and to ourselves. LACE intends to solve this problem by simply identifying, connecting, and unify.
LACE is beautiful and important because it was born in creativity and it manifests the very ideas we wish to promote. For the history of our graphics it was a creative journey in seeing what exactly, we could give you the reader that would communicate our openness, willingness, and seriousness in being an official creative medium. Through an analysis of some of our previous logos, here is the journey we went on to connect to you:
Here are the font choice we began with, ultimately none of which were used (lol). We hold on to this assembly of fonts, however, because each represents the eccletic mood and nature of this magazine. Type is a useful art form because beyond the literal word that is being presented a mood is being portrayed within the ligatures, kerning, and tracking of each letter.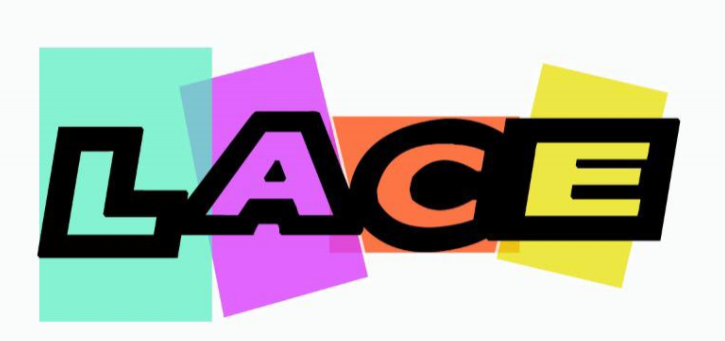 This is the first design for LACE's logo. We knew the importance of color was necessary in communicating that this was a welcoming environment. After sorting through and compiling exactly 20 color schemes (none of which we have to show you after a fitful night of frustrated deleting and digital creator's block) we chose colors and variations of such that we had not seen and whose color scheme reflected the warmness and cutting edge nature of our project.
Next, we regrouped for simplicity and design. We knew initially our site would house millions of hues and colors and thought it best for the art to speak for itself and for our logo to be the accent of the site rather than the focal point.
Losing Focus and Creative Juices
After variations of the last two logos, we regrouped once more! We had an existential crisis in which we were like, "What is design?", "What are vector graphics?", "Design is more than just font!", and "Have I been spelling LACE right?". After this, a full night's rest, and some sunshine, we came back and concluded this is best a promotional photo and literally has nothing do with what we're making! I mean what even is this, is it skin? I'm not sure. But anyway, it was back to the drawing board. We've learned and are still learning!
In this LACE logo, we returned to a black and white color scheme but now we gave our site purpose. Firstly, our font allowed us to be bold and be present. However, it also inhibited us, making us be seen and not heard, which is a new issue we had to tackle.
Secondly, on our site we act as a true multimedia platform for creatives to express. This led us to the barcode idea. All sold item have a barcode. At face value, these items are nothing more than objects. However, when scanned an endless array of specific code is released that uniquely defines the product as more than what we can see. This same principle works with creatives. At face value, we are just people, but when stimulated, encouraged, and questioned we can be seen for more than this. When our products (our art) are examined, we see the many pieces and the very code of our emotions and efforts that went into forming them. LACE is our code and we hope when you engage in our community that even the thinnest line from our code will become apart of yours. We hope LACE will allow you to answer the question: "What's Your Code?".
Also (if you look closely enough) the barcode lines are fuzzy! This has no real meta purpose, it's just kind of cute, which is another key purpose of design!
The Return of Color and Our LACE
We founded LACE in wanting it to be a proponent of color, so when re-adding our color scheme we were allowed to establish our identity on the site whilst helping you discover yours. The letters leap off your page and let you know that we are here to be a consistent and dedicated creative medium. LACE is our code and we are proud to call it, uniquely our own.
We show you this history to prove that LACE was not an overnight journey and that this site and sites like these do not show up overnight. Our creations, much like yours, are not perfect and take time. This history of our logo is representative of our creative journey but it is also representative of the journey that all artists go through to strengthen themselves and impact others. Whilst creating this logo, much time was spent going to and from the drawing board, researching, and figuring out ourselves and others. The struggle in creating this logo made the reward of creating it that much sweeter. We worked, tested ourselves and our abilities, and created a great piece of work. That is the point of art. The LACE logo is strong and we are proud, but this journey in creating it lets us know that ourselves and what we make on this site and in other ventures are always a work in progress that requires improvement. As we grow and evolve so does our work and we are very excited to see where this creative journey will take us next.